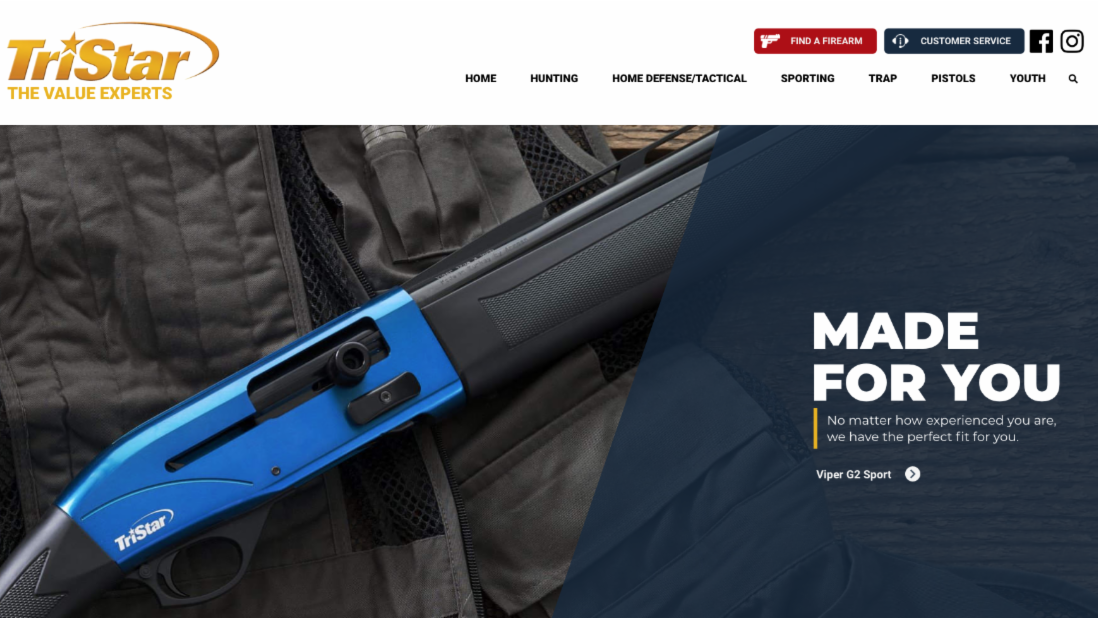 Award-winning TriStar Arms' new website is now live. This update makes for simpler browsing, is mobile friendly, and includes multiple options for purchasing.  Media assets, including high-resolution images and specification sheets, can be found in just two clicks.
"TriStar is known for our sharp focus on value and quality. That focus includes the value of your time.  We have created a beautiful and efficient website to handle all of your TriStar needs" said Ryan Bader, Vice President of Sales and Marketing for TriStar Arms.
Purchasing options include direct links to Gallery of Guns, The Shooting Store, and Gunbroker.com websites with pre-populated model numbers to ensure finding the right gun. Identifying which TriStar is right for you has also been made easier with products sorted first by application, then identified by model name and image within each category including hunting, home defense/tactical, sporting, trap, and youth.
Updates also include new-for-2020 models such as the Viper G2 .410 Youth, Viper G2 SR Blue pictured above, the handsome Trinity line, and the Viper G2 410 Turkey model pictured below and ready to take full advantage of the latest small-gauge turkey loads. 
---
About TriStar Arms:
Located in Kansas City, Missouri, TriStar Arms is a primary importer of quality shotguns and handguns. The company is driven by the same mission that it set out on since its inception - to provide high-performance firearms for hunters, recreational shooters and home defense at a fraction of the price and to deliver fast and friendly service at all times. Every firearm that TriStar Arms imports is rigorously tested throughout each stage of production to ensure that its customers receive value that can be passed down for generations.
For more information on TriStar Arms visit www.tristararms.com.
Media Contact:
Chevalier Advertising
Griffin Bartman